AGACNP's work in acute care settings in hospital units or service lines with direct care of acutely ill individuals, as a key member of a healthcare team. The job responsibilities of an AGACNP are varied and may include:
Assessing a patient's immediate health situation.
Developing diagnoses
Ordering and reading diagnostic tests.
Developing appropriate plans of treatment based on best practices, guidelines, research, and cultural sensitivity.
Managing patients' pain, prescribing medications, or recommending medical devices.
Communicating with and advocating for patients and their families.

The Online Adult Gerontology Acute Care Nurse Practitioner Master's Degree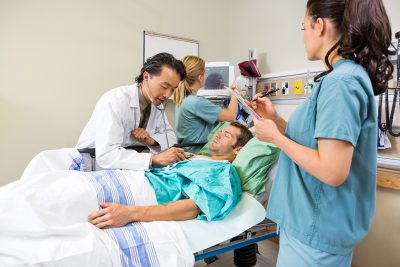 The University of Connecticut's 45-credit Adult Gerontology Acute Care Nurse Practitioner (AGACNP) master's program is taught by UConn School of Nursing faculty who are dedicated to your future in advanced practice. All acute care courses are taught by experienced acute care practitioners actively working in the field.
Adult Gerontology Acute Care Nurse Practitioner (AGACNP) graduates are prepared as advance practice nurses to assess, diagnose, monitor, treat, and coordinate the care of acutely and critically ill individuals from adolescence through advanced age.