AGACNP's work in acute care settings in hospital units or service lines with direct care of acutely ill individuals, as a key member of a healthcare team. The job responsibilities of an AGACNP are varied and may include:
Assessing a patient's immediate health situation.
Developing diagnoses
Ordering and reading diagnostic tests.
Developing appropriate plans of treatment based on best practices, guidelines, research, and cultural sensitivity.
Managing patients' pain, prescribing medications, or recommending medical devices.
Communicating with and advocating for patients and their families.
POST-GRADUATE CERTIFICATE OPTION
---

The Online Adult Gerontology Acute Care Nurse Practitioner Master's Degree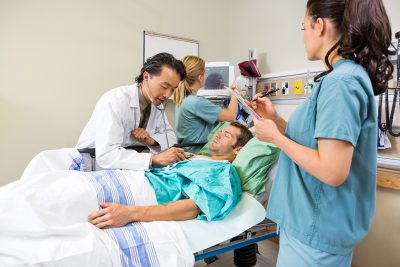 The University of Connecticut's 45-credit Adult Gerontology Acute Care Nurse Practitioner (AGACNP) master's program is taught by UConn School of Nursing faculty who are dedicated to your future in advanced practice. All acute care courses are taught by experienced acute care practitioners actively working in the field.
Adult Gerontology Acute Care Nurse Practitioner (AGACNP) graduates are prepared as advance practice nurses to assess, diagnose, monitor, treat, and coordinate the care of acutely and critically ill individuals from adolescence through advanced age.
Uconn's AGACNP program courses are delivered in a fully online, asynchronous format. Asynchronous means that students do not have to attend a lecture at a particular day and time. Content and assignments do have schedules time frames and deadlines. Material is presented in a manner that allows the student to complete the course content and coursework on their schedule (keeping within set due dates). Students come to campus during the second and third spring of the program (second spring only for post-graduate certificate students) for a four full day in-person intensive session. The intensive sessions will focus on intense, hands on acute care curriculum that involves developing a deep understanding of human anatomy and hands on critical care skills.
During the entire program, students work closely with their acute care faculty advisor to ensure a smooth transition through the program.
---

The Online Adult Gerontology Acute Care Nurse Post-Graduate Certificate

The post-graduate certificate program is designed for the post-graduate students who wish to pursue certification as an acute care nurse practitioner. You will note on the website that there is not a plan of study noted for the post-graduate student. Plans of study are designed on an individual basis with the student and track director.
For applicants who are already board-certified nurse practitioners, the program typically consists of two semesters (2 acute care specific didactic courses and 2 acute care specific clinical courses) along with a minimum 500 clinical hours.
Coursework follows the same online, asynchronous format as the master's program. Depending on the applicant's previous certification, the student will attend either one or two in-person, on-campus four-day intensive sessions. The intensive sessions will focus on hands-on acute care skills and understanding of human anatomy as it relates to the acutely ill.
For applicants who are not board-certified nurse practitioners, the plan of study varies based on the degree/certification upon entry.
Please reach out to Dr. Bott at kristin.bott@uconn.edu to further discuss the post-graduate certificate program.